Sophisiticated tastes and James Bond go hand-and-hand. Perhaps it's not surprising than that 007 has worn some very fine watches on-screen. This guide will describe the timepieces worn by the world's most famous spy.
***
Dr. No (1962)
From Russia With Love (1963)
Goldfinger (1964)
Thunderball (1965)
You Only Live Twice (1967)
    Sean Connery wears a Rolex Submariner in the first five Bond films.

Connery's Rolex Sub featured in "Dr. No"



O.H.M.S.S. (1969)
In his only turn as Bond, George Lazenby sports a Rolex Submariner and a Rolex Daytona.


Diamonds Are Forever (1971)
No identifiable watch worn by Connery, although it's believed that he is sporting a Rolex Submariner.
Live and Let Die (1973)
Roger Moore's Bond wears a Rolex Submariner and a Pulsar Quartz LCD.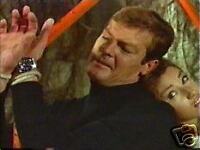 Bond's Rolex Sub comes in handy in this famous scene from "Live and Let Die"
The Man With the Golden Gun (1974)
Moore models a Rolex Submariner and a Rolex Cellini.
The Spy Who Loved Me (1977)
Moonraker (1979)
For Your Eyes Only (1981)
Octopussy (1983)
A View to a Kill (1985)
Moore straps on a Seiko for five straight films.

Bond turns to a Seiko in "Moonraker"
Living Daylights (1987)
License to Kill (1989)
Timothy Dalton's short-lived and poorly received Bond at least has the good taste to bring back the Rolex Submariner.

The iconic Rolex Sub, the choice of Dalton's Bond
Golden Eye (1996)
Tomorrow Never Dies (1997)
The World Is Not Enough (1996)
Die Another Day (2002)
Pierce Brosnan's Bond wears a variety of Omega Seamaster models for each of his four turns at Bond.


Bond's current watch: The Omega Seamaster
Casino Royale (late 2006)
Daniel Craig's first time as Bond. Rumor has it that he will be wearing an Omega Seamaster. Stay tuned.